Using Music With Ice Breaker Games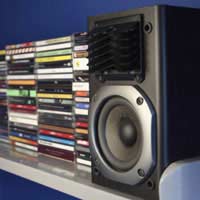 Music is one of the most effective tools for an ice breaker game as it is a universally known language. Everybody has some interest in music whether they love the latest pop charts or a family member plays the piano. Music connects everyone in one way or another and this is why it can be a brilliant way to start a lesson, group, meeting or training session.
Because of its wide interest music can encourage debate, bring up similarities in personalities and show passion amongst each other. Music is a fantastic conversation starter, which is why using music in some form or another with ice breaker games can help bring a group of people together quickly and effectively.
Here are some effective ways of incorporating music into an ice breaker game:
Do you play an instrument?
This can be a great way of starting up a conversation with the group. It is likely that at least one member of the group will play some kind of instrument and questions may arise from others in the group. People are often quite willing to discuss their music talent so try to let them do the talking.
If possible have a number of instruments in the room – if someone has explained that they play an instrument ask them if they would like to play a few tunes for the group (if they are not comfortable with this do not pressure them). If they agree ask the person if they can play a few well known songs. Then ask the group to see if they recognise the song. The group will enjoy listening and working out what song is being played.
Music tastes
Simply going around the group and asking musical preferences can work extremely well for breaking down barriers and getting individuals to talk and discuss their interests. Individuals will find out that they have similar musical tastes as others and will encourage the group to delve deeper into their tastes and interests.
This will also start debates and individuals will discuss and defend their musical preference, which will, in turn, uncover personality traits. People can be passionate about music and often forget that they are talking to a group of people they are only just meeting for the first time. This can be really effective as it immediately removes the social barriers of people.
Background music
One of the key obstacles to overcome with a group of people who do not know each other is getting them to open up and talk. Many people do not like talking in front of a group and this can have an effect on learning, working and teaching. When a group is sitting in a circle and the teacher, trainer or manager etc ask an individual a question, that individual can feel quite intimidated.
The question is asked and then there is a deep silence around the room with the whole group waiting for the person to answer. A great way of relaxing the mood, eliminating some of the difficult silence and making the experience less formal is to have some light music on in the background. Music is known to relax people and with background on people feel less pressured and more willing to talk. Make sure you don't have the music too loud otherwise the group won't be able to hear the questions and you won't be able to hear the answer, which defeats the purpose.
You might also like...