Ice Breaker Games for All Ages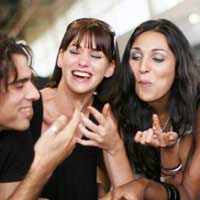 Ice breaker games can be used for young and old, meetings or classrooms, parties or work events. The beauty of (many) ice breaker games is that they act as a generic activity that can be incorporated into most situations.
Adults enjoy games just as much as kids, especially if those games are used to break up long, monotonous days. A fun game can lighten the mood, whether it's a serious meeting or a primary school lesson.
If you have an event coming up and your guests are kids or adults or possibly a mix, try some of these tried and tested ice breaker games designed specifically for all ages:
North and South
This game can be used for breaking the ice at a company event or helping kids get to know each other. Before the group has arrived put two signs on each side of the room, one saying north the other saying south. Explain that you will be calling out two opposite choices, e.g.. 'Which do you prefer, sweet or sour?' Then instruct the people who prefer 'sweet' to head to the north side of the room and those who prefer 'sour' to head over to south side.
Once everyone is on their chosen side get them to debate about the options. You can apply specific choices to your group. For instance, if you are holding a company meeting you may want to use choices relating to the current project your team is working on e.g.. 'Do you prefer the current design or the new design?' This is a great way to let staff express their opinions, while breaking up their regular work pattern.
This game can also be altered to work with kids. Kids will find this a fun and interesting game if you use choices relevant to them. You could use celebrities, superheroes or anything else you think your group are interested in. The north or south game works great with people of all ages. All you need to do is adjust the choices to match your group.
Simon Says
This is a classic game enjoyed by kids and adults all over the world. Although often associated with the school playground, Simon Says has become a fantastic ice breaker for companies and team building activities. Once the group has arrived explain that you want everyone to copy the action you are performing but only when you say 'Simon Says' first e.g.. 'Simon Says pat your head'. If you do not say 'Simon Says' before the instruction, those who carry out the action are out of the game.
If you're feeling adventurous you could apply Simon Says to a meeting to keep participants focused and interested. Or, simply take five minutes out of a lesson to play a quick round of 'Simon Says' to boost and energize the kids. This traditional game can be applied to any situation and proves a fantastic hit with kids and adults.
Find a Friend
When everybody arrives hand out pieces of paper to each of the group. Ask them to write down three things they enjoy. Once everyone has written down their statements ask them to walk around and find people that have common interests. You can apply this to adults in the workplace by asking staff to write three comments relating to their work or project. This can reveal the groups opinion of how things are being run or how a project is being carried out.
You know the kids or adults in your group better than most and you should try and come up with an ice breaker that suits the situation and group. No matter what the age of your group is, remember to make your ice breaker game relevant, fun and interactive.
You might also like...