Five Most Effective Company Ice Breakers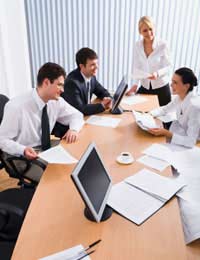 Ice breaker games are incredibly effective to start a company meeting or team building event. Ease everyone into a long instructional meeting or get everyone acquainted before carrying out a team building event.
Ice breaker games are also great at welcoming new team members and helping them get to know everyone in a fun and enjoyable way. Ice breakers will help to gain the trust of your staff as well as motivate your team by creating a relaxed, and friendly working environment.
Here is a list of the five most popular and effective company ice breaker games you can apply to any team situation:
Ice Breakers for Introducing
1. All About You
Once everyone has arrived and is ready for the meeting or team building activity throw in this quick and simple ice breaker to get the group familiar with each other. Go around the group one at a time and ask each member of the team to tell the group their role in the company, how long they have been with the company and a little fact about themselves that the rest of the team would not know. This is a very simple little ice breaker but is very effective in getting the team acquainted and ready for discussion.
2. Quiz Each Other
Before you begin your meeting or team activity instruct the group to break up into pairs. Then, tell pairs to quiz each other for 2 minutes. Try and get each pair to find out as much as possible about each other. Once the 2 minutes is up ask each pair to introduce their partner to the group using all the facts they found out. You could make this game a little competitive by offering a prize to the pair that found the most facts about each other. This is a simple ice breaker that gets the team interacting with each other and also prepares everyone for a debate, meeting or activity.
3. Truths and a Lie
This quick game eases everyone into a relaxed atmosphere and is popular for it's element of fun. Suggest a game before your meeting and instruct the team to take the 'hot seat' one at a time. Explain to the 'hot seat' contestant that they need to tell the group 3 statements about themselves. However, out of the three statements one must be false. The rest of the group then has to figure out which of the statements is false. A great game that gets the team working together and also lets everyone know a little of each others background.
Ice Breakers for Team Building
4. Throw the ball
This game is an uncomplicated ice breaker that gets the team working together and learning names quickly. Ask the team to sit down and form a circle. Produce a ball and instruct the participants to throw the ball around the circle. Before throwing the ball they must call out the person's name they are throwing it to. The game must speed up as it progresses. You can add sporting element to the game to make it more interesting by explaining that anyone who drops the ball must run around the circle and return to their seat. This fun game can be played for as long as you like.
5. Brain Storming
A quick and simple brainstorm can have a dramatic effect on the team and can revitalize everybody's vision of the task or project. When your team seem to be getting bogged down in the job, hold a quick meeting where you offer everyone to put their opinion across in a brainstorm style debate. This will get everyone motivated and encourage solutions for problems that arise.
These five ice breakers are tried and tested games and activities that company directors swear by. They are all extremely effective and produce results. This does not mean that you should stick to these games as there is wide selection of ice breakers that can be adapted to your specific needs.
Once you've tried these ice breakers out why not try
Creating Your Own Ice Breaker Games...
You might also like...
I'm not sure that 1,2 and 5 are really games in the way we think about them. Something to build trust can be good if you're planning on having people working together. Pair off the people, have one stand in front of the other, his back to the person behind, and let himself fall backwards. The person behind has to hold him up. Then they switch positions, and then switch partners. It's a good exercise for building trust within a group
blaine
- 4-Jul-12 @ 12:30 PM