What is an Ice Breaker Game?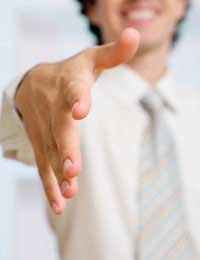 Whether you run a company, teach a class or just want a group of people to get together for a special occasion, getting people to relax, interact and have fun can be a tricky task. However, activities and games can break down barriers, relieve anxiety and help groups come together and open up. These activities and games are known as ice breakers.
An ice breaker is specifically designed to break down the barriers people encounter when entering a new situation with people they don't know. These games and activities are often carried out before an event as an interactive, fun team building exercise.
An ice breaker helps people interact with one another and encourages participants to contribute.
The ice breaker is usually carried out in two distinct situations:
1. Getting people to interact and get-to-know each other quickly.
2. Preparing a group for a specific meeting, activity or task.
The 'Get To Know You' Ice Breaker
Ice breakers used as a 'get-to-know each other' activity are often applied to school, college and university lessons to help youngsters and students relax and have fun before commencing with further lessons. However, they can also be applied to corporate meetings, celebrations and parties.
The Productive Ice Breaker
A more complex ice breaker can be used to prepare employees for a new project or task and can act as a problem solving activity. For example, if a meeting is being held to come up with a design solution for a new product, an informal ice breaker that allows staff a set amount of time each to call out suggestions and opinions before the formal meeting begins may help everyone settle into a more serious meeting and allow staff to vent some frustration about the current problem.
Ice breakers also act as 'warm ups' to further events and need to be quick, simple and easily understood. Here are a few examples of effective ice breaker games:
Throw a Ball
This activity helps individuals get to know each other and learn each others names. The organiser instructs the group to form a circle. The organiser then produces a ball (a tennis ball or soft ball will do). The organiser then advises the group to throw the ball to someone and call out the receiver's name. This is a quick game that allows people to remember names quickly and in a fun setting. This is an effective game for students entering their first day of school or college.
Interview
This game can be used for students or a team building activity for people that need to get to know everyone quickly. The organiser should split the group into pairs and instruct them to interview each other for five minutes. Once the five minutes is up ask each participant to introduce their partner to the group.
An ice breaker, if used effectively, can help groups progress with tasks, projects or lessons. Ice breakers will also strip individuals of their anxiety, fear and social worries and bring people closer together.
You might also like...