Games for Family Reunions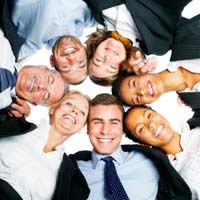 Have you ever turned up to a big family reunion with everyone either sat there sipping drinks in silence or huddled in small groups without any interaction?
Just because we are related doesn't always mean we are incredibly close to other parts of the family. This is usually down to lengthy periods of time without seeing each other, which causes distance between us.
Family reunions either fill you with warmth and excitement or sheer terror and angst. However, with a little effort and some family fun you should all be reminiscing about past meetings and even future ones.
Here are some fun, get-to-know-you ice breaker games that should get your whole family interacting like the Walton's.
Photo Swap
Before the reunion send out a message asking everyone to bring along as many family photos as possible. These can be of your immediate family, past reunions or any photos that involve you and your relatives. Once everyone arrives get them to spread out all the photos on a large table or on the floor.
The photos alone should spark interaction and encourage conversation. If you want to make the whole event a little competitive get each relative to pick out all the photos of another relative. This should create some fun and laughter throughout the reunion.
The Family Factor
The family votes on each relative's talent and who ever receives the most votes wins the game. This game is thoroughly enjoyable and has a fun interactive quality that will get the entire family involved.
Family Trivia Game
Create a quiz with questions that involve strange facts about your relatives. You will have to do a fair amount of research but the outcome will be worth it. Weird and interesting facts will make the quiz a lot more fun and enjoyable. Try not to include any questions that may embarrass members of the family as this will have a negative effect on the whole reunion. A fact about your Uncle Jack's operation might not go down so well with him or the family, so keep the content fun and make sure everyone appreciates the effort you have put into the game. You want your family leaving the reunion commenting on how well thought out the quiz was and not how you offended your great auntie. This family game is fun and gets everyone learning a little more about each other.
You can start the reunion off with one of these games or use a number of games throughout the course of the event. Just make sure the whole family is interacting with one another and above all create a fun, enjoyable atmosphere that helps members of your family relax and converse.
You might also like...