Ice Breaker Feedback from Teachers: A Case Study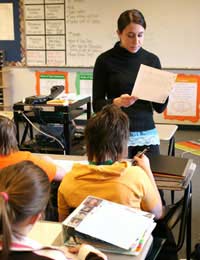 Ice breaker games have been used for many years but are becoming increasingly popular amongst schools and teachers lesson plans. As teaching has taken on a much more interactive approach the ice breaker game has fitted well amongst school teaching strategies with approval from head masters from across the world.
Mr. Wallace is a retired headmaster who taught in several schools across the South East of England. He has been in education for over 30 years and has seen different styles of teaching throughout his career.
Changing Approaches
Mr. Wallace is a keen advocate of the ice breaker game and believes the interaction between pupils and teachers is the key to providing an excellent learning approach.
"When I was at school as a pupil we were simply told to read either long texts from books or the information the teacher displayed on the board. We learnt the subjects thoroughly but mainly because we were severely disciplined if we did not know the answers to questions. This teaching approach was effective but not very practical and I remember a few students who were not quite as fast learners as some of the other children who were disciplined. Luckily nowadays, teachers recognise the different levels of pupils and provide support and guidance accordingly.
"When I became a teacher I tried to avoid that form of teaching and tried to introduce as much interaction as possible. Including a few ice breaker games at the beginning of a lesson proved extremely effective and really settled the pupils down into some slightly more mundane tasks. The wonderful thing about immediately starting a lesson with an ice breaker game is that the mind set of a long, boring lesson is removed. The pupils become motivated and they suddenly realise that this lesson doesn't have to be a terribly dull experience".
Maintaining Control
Mr. Wallace has been a supporter of ice breaker games for many years, however, he has occasionally witnessed a few teachers loose control of classes when implementing a game that is a little to active.
"There is a fine line between getting the pupils motivated and ready for the lesson ahead and loosing control of the situation through over stimulating their minds. I have seen teachers use over complicated or non-relevant games that have encouraged the pupils to act up or run riot. I remember one teacher decided to take his class to the rugby field for a quick 10 minute ice breaker game that involved kicking a rugby ball over the bar while counting how long it took to reach the ground.
"The teacher had wanted the game to take no longer than 10 minutes but of course the pupils got a bit carried away and it took the teacher the entire lesson to get everyone back into the classroom. It was quite a waste of time and the teacher learnt from the experience. Although the ice breaker can be incredibly effective it can also cause quite a stir if its not correctly planned and controlled".
You might also like...