Christmas Party Ice Breaker Games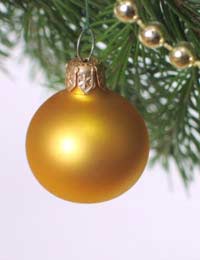 Planning a Christmas party can become a stressful and demanding experience, especially if you leave preparations to the last minute.
You may worry about whether your rambunctious friends will get along with your conservative family and cause an awkward atmosphere, when all you want is for everyone to get along and enjoy the festive celebrations. In this case breaking the ice quickly and comfortably is important to get the party off to an enjoyable start.
Breaking the ice is easily achievable with some fun Christmas ice breaker games. An effective Christmas ice breaker can help the party run smoothly and allow guests who don't know each other become better acquainted.
Start your Christmas party off with some of these effective ice breaker games and host a party that your guests will never forget.
Decorate the Christmas Tree
If you have a large number of guests you may need to divide into smaller groups. Allocate one of the group members to be the Christmas tree and the rest of the group decorators. Have ready two boxes of Christmas decorations and give both teams 5 minutes to decorate each tree (person). The host can act as judge and decide on a winner, who receives a prize. This is a great game that gets everyone enjoying themselves and can also provide some classic photo opportunities.
Christmas Carol Quiz
This is a great quiz that will have everyone competing. Put together a quiz that involves guests working out the Christmas carol from the clues. For example, 'Silent Night' could hold the clue 'Soundless evening' or for 'Jingle Bells' you could have 'Rattle Chimes'. Instruct your guests to divide into small groups. Then hand out a piece of paper to each team for them to write their answers on. You act as quiz master and call out the clues. At the end of the quiz you can add up the scores and award the winner with a prize. This game can be altered to suit your quiz.
Draw Me a Christmas Carol
For this game you will need a writing board, chalk or marker. As host you will act as game leader and split the group into two teams. Each team elects a representative. The representative then goes up to the game leader where they select a Christmas carol and tell the games leader without any of the other participants hearing. They then have two minutes to create drawings that will help their team work out the Christmas carol. Both teams can guess while the representative is drawing and the team that begins singing the carol first wins the point. This is a fantastic ice breaker that encourages your guests to interact with each other while competing in a fun game.
Start your party off with an ice breaker and watch your guests become better acquainted and relaxed. You can find hundreds, if not thousands of excellent Christmas ice breaker games that create a wonderful atmosphere and help your Christmas party become a celebration that your guests will remember for years to come.
You might also like...