Ice Breaker Games for Wheel Chair Users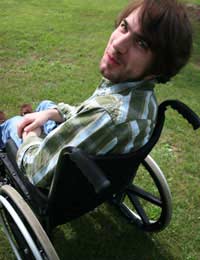 Whether you are using ice breaker games to introduce a group of wheelchair users to each other or including a single wheelchair user into a group of non wheelchair users you must always ensure that everyone is happy with their surroundings and the activities that have been organised. With simple ice breaker games you can create a fun and comfortable atmosphere that the whole group will enjoy.
When selecting ice breaker games for wheelchair users you must consider certain things such as is the area you are using suitable, is the ground adequate for wheelchair users and most importantly is it safe for everyone involved.
Like all ice breaker sessions, you should think about the group dynamics before choosing the games. Is it a large or small group? Is the group capable of most activities? Is there anyone that might find the ice breaker more challenging than the others? If so make sure you take this into consideration and accommodate the individual or select few.
Choosing ice breakers is best decided from the person managing the lesson/session because that person understands the group and the group preferences and abilities. Here are some of the more popular ice breaker games used. These games have been successfully used and approved by teachers and wheelchair users.
Treasure Hunt
The treasure hunt ice breaker game is an excellent activity for wheelchair users because it encourages teamwork, movement and cooperation. Before the lesson/session begins scan the area making sure it is suitable for wheelchair users, then place certain objects around the area. For example, small toy animals or fruit. Ask the group to pair up. Then explain that they must find the items but they cannot separate. They must acquire each item together. This means they must negotiate the direction of both chairs. This quickly allows pairs to get to know one another and breaks any social barriers. Try and do this several times and switching the pairs – this way everyone gets to know each other. If you have a particularly large group you could separate them into teams, which also makes the whole game that little more challenging.
Basketball
Depending on the group, basketball can be a fantastic ice breaker game. Like most sports basketball encourages teamwork, support and confidence. A basketball court is a safe and suitable area for wheelchair users as the surface is smooth and there is usually plenty of room. You can choose to either ask the group to take on drills such as lay-ups or shooting drills. This involves lining the group up and each member of the group takes a turn of shooting the basketball or laying it into the hoop. If the group is feeling competitive you can split them into two teams and set-up a match of first to eleven or whatever number of points you feel is suitable for the group. You can add or remove certain rules to accommodate the group and make it easier or harder. Removing dribbling can allow the game to flow a little quicker or lowering the hoop (if possible) can make the game more enjoyable for younger groups.
You might also like...
how ya doing ice braker here remeber be an ice bro and get started see ya around
ice braker
- 24-Aug-12 @ 3:59 PM