Ideas for Themed Ice Breaker Games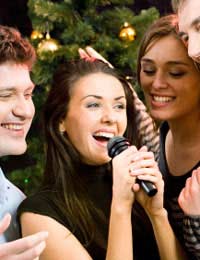 Parties and social gatherings can sometimes lack enthusiasm and enjoyment, so why not spice your party up with some fun themed ice breaker games. Ice breaker games can switch the atmosphere of your party in a matter of minutes, especially if everyone puts in a bit of effort in.
When it comes to choosing a themed ice breaker game for your party, try not to limit yourself to a game of charades. Ice breakers can be as extravagant and imaginative as you like and if you have the time you can create your very own ice breaker to match the theme of your party, so get brain storming.
Here are a few themed ice breaker games you can use or adapt for your own fun party;
Guess the Star – Celebrity Themed party
Prior to the party find and print out a selection of celebrity stars. You can use the internet or simply cut them out of magazines. Place the pictures along the wall and number each one. Once everyone has arrived, hand out a piece of paper with the numbers of each star on. Then have each guest work out the name of the star. This is a simple game that can be adapted. You can use any celebrity genre – sports, music, politicians to run with the theme of your party. To make this game even harder you could cut celebrity body parts out and have guests guess the celebrity from a picture of their hair for example.
Hum Me a Tune – Music Themed party
Once your party has arrived and are settled get them to split into two teams. Then have a list of songs for each team. Taking turns, have each team play out the tune one by one to one designated listener. For instance, if you have a team of five, have one team member listen to the other four who then tries to guess the song. Whoever gets the most correct songs wins the game. This fun game can also be used for a movie theme, just have the team act out scenes from a movie instead of songs.
Act Me a Scene – Movie Themed Party
Put everyone into small groups. Have a selection of movie scenes written on pieces of paper and hand out to each team. Instruct each team one at a time to act out their scene and have the rest of the group guess the scene. You can use points to this game to make it more interesting. For example, you could give 1 point for the name of the film, 2 points for the name of film and name of actors and 3 points for film, actors and year the film was made.
This selection of themed party ice breaker games are for you to use or expand on to suit your specific party. The real fun of a party ice breaker is creating your own. You know your guests and will be able to craft a much more suitable themed party game than anyone else. So take inspiration from others but try adding a unique personal twist to excite guests and build the right atmosphere for your party.
You might also like...