How to Plan and Organise Party Ice Breaker Games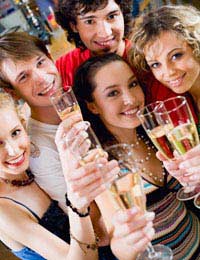 Although ice breaker games are usually used to break up mundane events or to add an element of fun to a party or celebration, planning and organizing the ice breaker is essential if you want the game to be effective and enjoyable.
Analyse Your Group
When planning an ice breaker game the first thing you must ask yourself is 'What sort of people are attending?' Think about all aspects of the group such as, the size, the sex, the age, the nationalities and the group's beliefs and backgrounds. Once you have analysed the group you can move onto deciding and organising an ice breaker game that will suit and match the groups personality and ideals.
Consider Your Area
A common mistake made by people carrying out ice breakers is that they don't take into account the area they have to work with. For instance, it's no use organising a game that involves everybody running around or using physical props when you only have a small room with limited space. The fun and enjoyment may be lost or, even worse, a participant may pick up an injury. So, think carefully about your space and the restrictions you may come across.
Picking An Appropriate Ice Breaker
You have done some research on your group and now understand the groups dynamic. You can now proceed with picking an appropriate game for your group. Choosing an ice breaker may seem tricky, however, learning about your group will make the choice far easier. For instance, if your group consists of 8 people or fewer you don't want to carry out a game that involves splitting the group into teams as the group will be better off connecting as one unit.
Practise
If you have time, try practising your game with friends or family to see if it will work. This also gives you the opportunity to uncover any problems or mishaps you may encounter during the actual ice breaker.
Organising The Activity
Once you have decided on an appropriate ice breaker game for your group, you can now go about organising it. Give yourself plenty of time prior to the actual event to design, create or assemble anything that needs doing. If the group require specific props make sure you obtain the correct type. Always bring a few extra of everything as additional participants may turn up. This will also help in case something is broken or misplaced.Move anything that might be in the way or that might obstruct the ice breaker. You want to make sure that interruptions and annoyances are removed prior to the event as organising this when participants arrive will eat into your time and may loose the interest of the group.
Above all make sure the surroundings and atmosphere are warm, welcoming and fun. Your priority is the group, so make sure you are prepared and ensure that the ice breaker has been well thought out and organised. Making sure you are organised will ensure that your ice breaker game is an enjoyable experience for everyone involved.
You might also like...