A Teacher's Experience Using Ice Breakers: A Case Study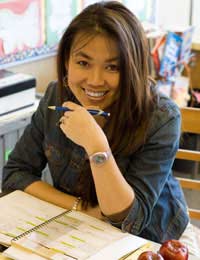 Once Debbie Hodgkinson successfully completed her teaching degree she was immediately offered an assistant teaching job at the local school in her hometown in North Dorset.
Debbie felt extremely privileged to be offered a teaching role so quickly after her degree and prepared for her first day teaching a year 8 class with students aged around 14. "My biggest worry was getting the whole class to interact and work as a team. I knew if I could achieve that then the rest of the lesson would flow as I had planned."
Divisions in Class
Debbie came across a divide in the class from the outset and needed to act quickly to unite the students to achieve an effective learning atmosphere. "After the first few lessons I realised that there was a divide in the class and this was causing problems within the lessons. So, over the weekend I decided to plan some fun lessons for the next week that would involve a few quick and easy ice breaker games that were specifically designed to allow students to bond and build relationships. These games would also give me the chance to see the different characteristics of each student."
Incorporating Games
The following class commenced and Debbie began the lesson with a couple of quick ice breaker games to get the class motivated and interested.
"I used an ice breaker that a fellow teacher told me to use as it got the whole class excited and motivated. The game is called 2 truths and a lie and encourages students to express a little bit more information about them. I handed out pens and paper and asked them to write three facts about them but one must be a lie. This also gets the students thinking and some of them come up with some quite creative lies. When they have finished writing down the facts I asked them to read each fact clearly and the rest of the class would try and determine which fact is a lie. This game brings everyone together and creates a humorous atmosphere."
Having played two truths and a lie, Debbie found that the whole class had gelled. However, the lighted hearted atmosphere had also excited the class and the students had become slightly hyperactive. The first game had worked well in helping the class unite so the next game was going to help the students focus on the lesson.
"After the first ice breaker game I knew the students would be quite excitable so I arranged another game to follow on from the first to get the students ready for my planned lesson. The lesson involved reading so I thought I would get them to write a short story, no more than two paragraphs about something they have experienced in their lives. Once they had written their stories I asked them to place their story in a hat that I had brought in. Then I asked each student to pick out a story and read it to the class. The class would then, as a team, have to decide which student the story belongs too. This is a great game that gets the students concentrating and eases them into more focused learning."
Debbie now uses ice breaker games with all her classes and finds that they create a fantastic atmosphere for learning and unite the class. "Whenever a teacher tells me about their problems with students or divisions in their class I always encourage them to use ice breaker games at the beginning of their lesson. And they always come back thanking me."
You might also like...