Ice Breaker Games for Adult Learners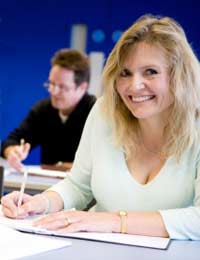 Adults can experience a higher level of anxiety towards education than their younger counterparts, as it can be a daunting experience for anyone returning to education.
Teachers, lecturers and educators should all understand the importance of interaction, especially when it comes to groups of adults. This is where the all important ice breaker game can make an immediate positive effect on the group.
Here are some ice breaker games that have been tried and tested and passed on from educators who have experienced a great deal of success from incorporating one of these games into their repertoire.
Life Story
Before the group arrives fold a piece of paper twice (fold in half and then in half again) so that it resembles a book. Ask the group to write a book about them self but include some starter questions to get the ball rolling. For example;
1.The title of the book must come from the title of one of their favourite songs.
2.Page two can ask the participant to write a paragraph about where they were born, their first job and where they live now.
3.Page three can be for drawing a family portrait or a drawing of an important person in their lives.
4.On the back page ask them to write a paragraph or so about their goals and aspirations.
Once the group has completed their individual books ask them to read out their newly finished novel to the group. You can choose a number of content subjects, so try and think outside the box when planning this superb ice breaker.
Hot in the Kitchen
Before the class arrive, write down the ingredients and instructions of a recipe (preferably one with plenty of ingredients). Then split the recipe into pieces with one instruction or ingredient per piece of paper. When the group arrive hand out the mixed up recipe to the class (one piece of paper each) and ask them to look at their instruction or ingredient.
The next step is to tell them that they need to put themselves in order of ingredient and instruction. For example, the person with 'pre-heat oven' would be the first in line. Tell them that they have a certain amount of time to put themselves in order to make the game a little more interesting. Once they have organised themselves into the correct recipe procedure the group must shout out 'yummy' or a similar code word to reveal their completion of the game.
Link the Story
This is a clever little ice breaker that is always enjoyed by adults. Ask the class to write down a list of specific things, e.g.;
Once the group have written their list tell them that you will start a story and each participant must add and continue the story. For example, 'I once went to…' the next person would finish the sentence with something from their list, e.g. 'I once went to Greece, where I met a man called…' and then the next participant would carry on. Keep the story going until someone has used up everything in his or her list. This person is then crowned the winner of the game. This game is enjoyed by everyone and enjoys a few laughs as well.
These are a few examples of some successful ice breaker games, however, they can all be manipulated to fit your group of adult learners. When you decide on an ice breaker make sure the game has everyone interacting and if possible use a game that involves a bit of humour and fun, as this will help settle and relax your new adult learners.
You might also like...