Primary School Ice Breaker Games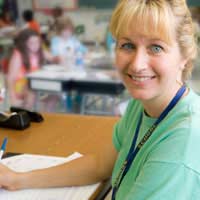 The first day of primary school is an important milestone in a young child's education and social behaviour. Ice breakers initiate interaction and relieve anxiety, which are two of your main goals when bringing together a group of school kids.
Ice breaker games are a fantastic way for kids to relax and ease into their first school experience. For kids to progress and have a happy education they need to feel relaxed and at ease with you, their fellow students and your teaching style. The best way to achieve this is with some fun games that create laughter, interaction and a welcoming atmosphere. You need to express a warm, friendly demeanour, as this will gain the trust of the kids, which in turn will strengthen confidence and settle kids into your future lesson plans.
When the kids enter the room, greet them individually and grab their attention immediately. Use one or more of these ice breaker games to get the kids comfortable and interacting:
Creative Ice Breakers
Ice breakers that involve creativity and building are good for younger kids who feel apprehensive about their first day of primary school.
A School Web
As the children enter the room, have everyone sit in a circle so that everyone can see each other. You then sit in the circle and bring a ball of string to the circle. Explain that everyone must tell the group something unique about them when the ball of string is thrown to them. Start the game off by stating something unique about yourself then throw the ball of string to one of the kids. Keep this going until everyone has told a unique fact about themselves. The ball of string should have created a spider's web, which you can then explain is a representation of the group and how everyone is connected. This is a fun game for kids, who are meeting for the first time.
My T-shirt
A week or so before your first lesson with the kids, write a letter welcoming the individual and introducing yourself. Add to the letter that you would like each child to bring in a plain, light coloured t-shirt. Set out cloth-friendly paints for the kids to use. When they come into the lesson with their t-shirts explain that you want them to paint something important to them on the t-shirt. Give examples such as their pet, family, hero etc. Once everyone has finished and the paint is dry get each individual to explain their painting. This interactive activity creates a bond between the kids and you learn some interesting points about your group.
Build a Puzzle
Before the class, print out (or write) a word, message or sentence, for example you could use the word Welcome or Welcome to primary school. Try and make this word or message as big as possible. Then cut into sections, mix up and place on the floor or over a large desk. When the kids enter the room ask them to work together (with your help) to complete the puzzle. Once they have put it together ask them to yell the word or message. This fun ice breaker encourages the group to work together as a team and breaks down anxiety and any fear of their new surroundings.
Although the first group meeting should essentially be to break the ice and let the group gel and settle, you want to try and incorporate your lesson techniques into the ice breaker so that the kids become associated with your style of teaching.
You might also like...