Leading an Ice Breaker Game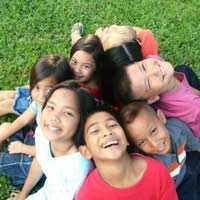 Most ice breaker games are simple enough to organise and carry out, however, guidance and leadership are needed for the game to run smoothly and create the effective outcome you want from the kids.
Whether you're trying to encourage kids, students, staff or friends to interact and open up, a leader is always needed to ensure the ice breaker activity is carried out in the right fashion for each participant to benefit.
Bring Kids Together
The ice breaker game is used to bring individuals together and to create a relaxed, atmosphere for the whole group. This means that members of the group will understandably be unsettled, nervous and anxious when entering the group, especially kids. Your job is to eliminate those feelings as quickly as possible by creating a friendly, welcoming ambience.
Express Confidence
You should conduct your ice breaker game with confidence and assurance, putting the group's minds at rest and allowing them to participate thoroughly. Expressing a calm, friendly, confident demeanour when carrying out an ice breaker game or activity will gain the trust of the group and put them at ease.
Trust
To gain respect and trust from your group you must control the activities carried out to ensure everyone feels comfortable. Practising a few ice breaker games before the lesson can help you react better to problems you may encounter. An ice breaker needs fluidity and should run smoothly when being performed, so if you find the ice breaker is running into obstacles and interruptions you may need to evaluate your method. A poorly constructed ice breaker can make you look a bit amateur, which then looses the trust and confidence of your group.
Keep it Simple
The main thing to remember when carrying out an ice breaker game is keep it simple. Before the class, meeting or fun party take some time to work out exactly what you want from your ice breaker; the intentions and outcomes should be well thought out before you proceed with the game as this will allow you to adjust and lead the game in the correct direction. This also allows you to pick an appropriate game that will suit your goals.
Objectives
Prior to the ice breaker work out what objectives you are trying to meet. It's no good completing a physical ice breaker when your following lesson involves lots of reading as the group will find it hard to make this transition. Try a word association game that prepares them for the following lesson.
Having decided on your ice breaker and figured out your objectives, you want to put yourself in the shoes of the participants and start asking yourself questions such as;
Is this a comfortable setting?
Are there any obstacles the group might encounter?
Is it enjoyable and fun?
Another point of the ice breaker is to allow the group to work out each others styles of learning or working, so that the group begin to understand each others strengths and weaknesses when beginning the next activity or project.
You might also like...