Musical Ice Breaker Games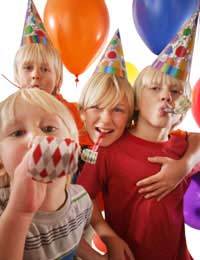 Music is often known as the universal language, which is why it is considered one of the most effective ways of getting to know people and sharing interests. Musical ice breaker games can be extremely effective in any setting and will certainly be enjoyed by everyone involved.
Before you get a group involved in a musical ice breaker make sure everyone is comfortable, relaxed and happy with what the group will be doing. Some people may not want to be included in a musical ice breaker and although it is fine to encourage them, it can have quite a negative effect if you try and force someone into a situation they are not comfortable with – so make sure everyone is happy first.
Explain exactly what will happen throughout the game and make sure they are aware of the rules. Once everyone is ready proceed with the ice breaker.
Musical Ice Breaker Games for Kids
Musical ice breakers are a fantastic way of getting kids to interact with one another and is a thoroughly enjoyable experience that can be incorporated into most situations. The musical ice breaker is usually used for school lessons (if appropriate) or a children's party. However, the musical ice breaker can be used when babysitting or simply entertaining a group of children.
Here are a couple of effective musical ice breaker games:
Musical Hand Shakes
Explain to the children that when the music starts they must walk around shaking hands with one another. When the music suddenly stops they must partner up with the person they are shaking hands with and ask a question. The question could be anything they can think of or to make it a little simpler the adult could shout out a question for the children to ask. If you really want them to interact and get to know each other you could go around and ask each child what they found out about the group after the game has finished.
Guess the Musical Instrument
This is an excellent ice breaker game for all ages but especially for children as it gets them to really think carefully about the sounds they are hearing. Gather as many musical instruments as possible – the more the merrier. Then set up an area where you can lay the instruments without the group seeing. You could set up a sheet in front of the instruments. Once everyone is ready explain that you are going to play a few notes on a selection of different instruments and they have to guess what instrument it is you're playing. This can be modified into a competition by getting the children to write the answers down – the child with the most correct answers wins.
Adult Musical Ice Breakers
Most musical ice breaker games can be played by both children and adults. With a little modifying you can usually make a childrens game extremely fun for adults. For example, 'guess the instrument' can quickly become a challenging game for adults by incorporating some extremely rare and exotic instruments – or even add a few kitchen utensils to make it really challenging.
Another good musical ice breaker game for adults is 'Who am I?'. This involves writing a famous musician or singer on a piece of paper and attaching it to each other's forehead without the person seeing who it is. They must then ask a series of questions to find out who they are. You can also add different elements to this game. For example, the group could hum a few lines of one of their songs or play a two second snippet of a song. This is a simple but fun ice breaker that uncovers the groups musical interests and gets them talking.
You might also like...