Ice Breaker Games: Tips for Teachers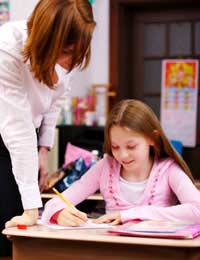 Teaching, as we all know, can be a difficult and stressful profession, which is why it is vital for school teachers to have all the help and advice they require to succeed and educate their students.
Stamp your Authority
Students, young and old, may cause disruption and create distractions in a school class and may create an ineffective learning atmosphere. Stamping your authority and establishing the rules is an important part of uniting your students. However, you don't want to frighten students or acquire a dislikeable reputation, which means you need to incorporate a relaxed, friendly demeanour into your teaching style.
Combining authority with a friendly, likeable persona can be difficult and even harder to balance without giving mixed messages. Setting the ground work for the year and establishing your lesson plan is important for you and your students to understand their boundaries and know their role within the class.
Relax the Class with Ice Breaker Games
An easy way to settle the class and establish everyone's role is to incorporate some simple teacher-student ice breaker games. Ice breakers are great for uniting students and revealing leaders within the group. They also project your authority if carried out effectively.
Teachers Tips
Take on board these tips from experienced teachers to help you unite a class through effective, student ice breaker games:
1. Organise before school – Practice your chosen ice breaker games before carrying them out with the class. Get friends, family or colleagues to go through each game and try and rectify any problems you may uncover.
2. Introduce yourself – A good way to state authority and let everyone understand that you will be running the class is to let students know exactly who you are and how you will be teaching the class. An effective ice breaker to use for this is 'quiz the teacher'. Set aside fifteen minutes and let the student's fire questions at you. These questions can be personal (but not too personal) or about school. This lets the students know that they have an input into the lessons. You can also use the questions to express authority.
3. Learn your student's names quickly – To quickly establish everyone's names, use a quick ice breaker game. A simple memory game such as 'remember me, remember you' can help you and your students remember each others name. Instruct the group to make a circle. Then have a student call out their name. They say 'my name is….' then going around the circle clockwise the next child calls out the last name and their own, e.g.. 'His name is John Smith and my name is Jane Miles'.
4. Relevant ice breakers – Make sure the ice breakers you use incorporate aspects of your lesson plan. For instance, it's not beneficial for students to carry out a physical ice breaker that gets everyone's adrenalin pumping when the lesson involves lengthy reading or heavy listening as you will find it time consuming to calm them down and prepare for a less active lesson.
The main tip experienced teachers hand out is 'keep calm and relax'. When problems arise or you feel things are getting a little out of control take a minute to evaluate the situation and above all don't hesitate to ask for help.
You might also like...