Do's and Don'ts at a Company Ice Breaker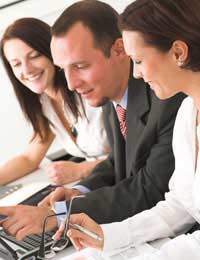 Ice breakers can have an incredible impact on employees, create blissful work environments and break up monotonous days. However, if you apply an icebreaker that isn't suited to your staff you may endure a negative outcome that can cause more problems than benefits.
Avoid this harmful outcome by reading through these do's and don't for a company ice breaker.
DO'S
Make sure the ice breaker has relevance to your company project and if a meeting follows the ice breaker make sure the game flows smoothly into the meetingYou will know your employees better than most, so when coming up with an ice breaker make sure your team will suit what you have in mind.It's no good choosing an ice breaker that requires fifty people when you only have a team of fifteen. Make sure the ice breaker fits with the number of participants you have.Explain the ice breaker carefully and make sure everyone understands exactly how the game works. If someone isn't quite sure of the rules of the game the ice breaker might cause problems and become a complete waste of time.
Insure that the ice breaker game you decide on is going to be fun. The whole point of the ice breaker is to let your employees enjoy themselves while, almost subconsciously, strengthening as a team. Make it funObserve the group. Make sure everyone is participating equally, otherwise some team members may find the game degrading and uninteresting.Always have a plan B. In other words have a second ice breaker game ready if your first choice is not working. This means you can quickly move into another activity without any long gaps or pauses.Ice breakers often require a little improvisation to move it along. Add or take out aspects of the game that may not be appropriate to your company.
DON'TS
Ensure the ice breaker doesn't take up too much time. A game that drags can loose the interest of participants and run into other tasks that are more important, so keep it short.Do not choose an ice breaker that is going to upset or make people feel uncomfortable. You should know your employees well enough and therefore you should know what may cause offence.Do not force employees to participate in your ice breaker game. As the boss you should be understanding and respect your employee's decision.Don't use intricate ice breakers that baffle your employees. A straight forward ice breaker is ten times more effective than something that causes to much brain power and effort.Don't forget anything. If your ice breaker requires props make sure you bring enough for the whole team. Bring a couple of extras; otherwise someone might be left sitting out.
These do's and don'ts are not set in stone rules, they are just guidelines to consider when deciding on effective ice breakers. As the company leader you will know what is best for your team and should therefore use your own judgment to decide on an appropriate ice breaker.
You might also like...