Ice Breaker Games: Positive Outcomes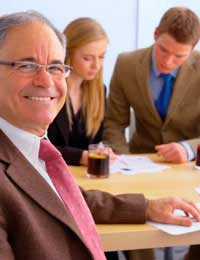 A powerful atmosphere can be achieved with the introduction of staff friendly ice breaker games. The team can become a strong, functional unit with the help of these effective activities.
There are a number of positive outcomes you, staff and the company can benefit from if you carry out ice breakers in an effective and productive way. These simple, easy games are underrated and often not used at all. The ice breaker can have detrimental effects on your business and company, so incorporate a few games into your repertoire and watch as your staff become a highly motivated team.
The Positive Outcomes
Gain trust from staff. Ice breakers can exhilarate staff and offer them a breather when things get a bit too hectic. Incorporating ice breakers that help your staff feel at ease and relaxed in their working environment will show them that you care about their needs. This will in turn gain the trust of your employees.
Motivated staff. With the help of some fun, active ice breaker games you can energize and motivate your staff and company. Including incentives and prizes often motivate people, so why not occasionally carry out a few ice breaker games that provide staff with an incentive.
Learning more about each other. As we all know, all successful companies require a tight functioning team. This involves a thorough knowledge of each other. Staff who understand each others strengths and weaknesses often work more efficiently and productively. Use an ice breaker to find out more about your team. A simple ice breaker can help the staff mesh into a successful work force.
Reinforce a project. An ice breaker can be a simple game that leads staff into an important project or task. Incorporating an ice breaker game that is relevant to a project or task that your company is about to undertake can be extremely beneficial. An ice breaker can act as an interesting and enjoyable stepping stone into a major task.
Heightening communication. A regular ice breaker can act as a communicational tool for staff and managers. Although meetings are effective for communicating, ice breakers allow staff to express themselves a little more than in a formal meeting. As a less formal event, the ice breaker is met with enthusiasm and encourages people to put across any queries or questions.
A Few Examples of Ice Breakers With Positive Outcomes
Here are a few examples of the positive outcomes you can achieve from an ice breaker game:
Ask the leader ice breaker – Before an important meeting about your current project, sit your staff down and ask each team member to ask you three questions. This can be about work but one of the questions has to be a (reasonably) personal question e.g.. 'What's the best country you have visited?' This quick ice breaker not only gets things off the chests of your employees but also helps them get to know you a little better, which will gain trust.
Make up a story – Instruct everyone to form a circle. Explain that the group will create a story, with the input of everyone. You begin by saying a sentence, for instance 'A man named Jim walked through a closed door'. Then the person to left adds another sentence to the story. Carry on creating the story until you decide to end it. This simple game provides many positive outcomes. The team learns to work together and to think quickly off the top of their head.
A great deal of ice breakers can provide a company with endless positive outcomes, so when you next hold a meeting or training event start it off with a simple ice breaker game…and watch your team become a productive business force.
You might also like...