Ideal Games for Smaller Groups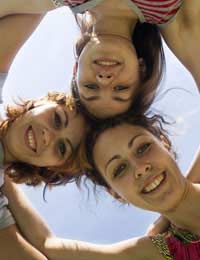 There is a wide variety of Ice breaker games available to aid teaching and when presented with a smaller group choosing the right game can certify a group bond.
It's no good putting together a game that is designed for a fifty staff team building exercise when you have a group of fifteen. When it comes to smaller groups you need to incorporate a more intimate, personal setting with plenty of verbal interactivity.
Here are some ideal games for smaller groups;
Guess my fact
This ice breaker is ideal for small groups as it gets everyone sharing intimate facts and asking questions. You will need pens and paper for the group to write on. Once the group is all together have them write a unique or interesting fact about themselves onto the paper. Then place all the pieces of paper into some sort of container (hat, box etc). Get the group to form a circle and send the container of facts around the circle. Each individual should then take out a fact and read it aloud to the group and then try and guess who the fact is about. If the person who removed the fact guessed wrong, allow the next person to guess and so on until someone is correct.
The Question-chair
An effective game for small groups, work staff or as an intimate get-to-know you exercise. Set out a comfy chair in the middle of the room and establish it as the question chair. Then have each group member take a turn in the 'question chair' allowing each individual 2-3 minutes in the chair. The first person takes to the seat and the rest of the group have 2-3 minutes to fire as many questions in the time stated as possible. This is very effective and can create a lot of laughs depending on the questions.
Act it out
This is a really fun game that works at staff meetings or for school games. Place the group into two teams. Get each group member to write down some actions or situations, for example, 'running in the Olympics' or 'meeting an alien in outer space'. Once everyone has written down their situations, have them place the bits of paper in a container (such as a hat). Then, get each team to delegate individuals to act out the situations. Then, in turns, let each group pick-out a situation to act out. Allow each team 1 minute to guess the action. If they do not guess correctly, give the other team a chance to guess. This gets the group enjoying themselves as well as interacting with each other.
These games can be adapted to suit the size of your group, so don't be afraid to elaborate your ice breaker and adjust it to suit your specific situation. Add props or get the group to dress up, anything that makes the game more fun and enjoyable. Small groups need intimate games, activities or exercises that lead kids, students or work staff to interact, ignite friendships and start important relationships. If you are a teacher, boss or group leader, these games will gain you trust from your group, build confidence and unite your team.
You might also like...