Creating Your Own Ice Breaker Game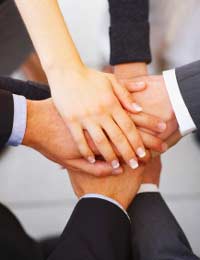 The ice breaker game is an effective tool for all those needing to encourage a group of people who may never have met before to work together and become a team. There are some well known ice breaker games that work incredibly well in most situations where you need to break down barriers and encourage group engagement. However, sometimes these traditional ice breaker games may not be as effective as they could be.
When it comes to teaching a group of people or trying to bring together a work force, you will be the only one that knows and understands the needs of those in the group. The situation is also an important factor. You will be the only one who understands the background of the group and what the topic or task at hand requires. This means that no matter how effective an ice breaker game is, it may not be quite as effective as you could make it to fit your specific situation.
This is why creating your own ice breaker game can be the best way to get your group working to the best of their ability. Ice breaker games can be quite easy to create if you keep it simple and focus on the desired outcome. For instance it's no good getting the group to play a team sport when you need them to read and understand Shakespeare. Understand your outcome and create an ice breaker game around it.
Where do I start?
Once you have evaluated your desired outcome for the group, search through the ice breaker games already used and available. You may come across a perfect ice breaker game for your group and outcome.
Keep an open mind
If you find an ice breaker game that might work well but could be improved, don't just settle for it try and come up with some innovative ideas to personalise the ice breaker game to your needs. For example, if you are teaching a history class to a group meeting for the first time, you could use the well known ice breaker game 'who's your favourite…' This usually involves asking your group who their favourite actor or musician is. You can instead ask the group who their favourite historical figure is.
Mix and match
You may sometimes find elements from more than one ice breaker game that would work well with your group. This can be really effective if you want to train or teach more than one subject, topic or task. Outdoor ice breaker games could be combined with simple introduction ice breaker games if your group are active or you are showing a group a physical task. Mixing up ice breaker games is an effective way of using the relevant elements from different games.
No limitations
Ice breaker games are there to help you bring together a group of people and encourage them to work better as a team. There are no rules or limitations when using or creating an ice breaker game so be imaginative and use anything you feel will improve the task at hand.
You might also like...