Sign Language Ice Breaker Games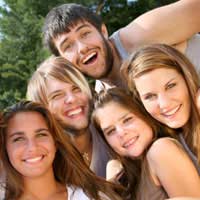 Like all groups of people, enjoying each others company and feeling comfortable around one another can help motivate and encourage success. Sign language is a fantastic form of communication and can be taught to almost anybody. Using ice breaker games with sign language can be a great experience for those hard of hearing and hearing because it encourages learning, brings together different groups of people and helps people come out of their shell and interact.
As with all group ice breaker sessions you must first analyse the group and ensure you fully understand the aptitude of your participants or students. Sign language ice breaker games can be played by anyone – children, teenagers and adults alike.
Here are some simple ice breaker games that use sign language. These games can be played by those who can hear and those hard of hearing:
Stand, Sign, Sit
This ice breaker game is perfect for adults or children with beginner knowledge of sign language. Calculate the number of participants and arrange a set of chairs in a circle. There must be one less chair than the amount of people involved. Once the chairs are set-up allocate someone to be the stander. Everyone is to then take a seat. The stander goes around to each person and assigns them with one of three colours. So the first person would be blue, second person green, third person yellow, fourth person blue, fifth person green etc. Each person should know the sign for their colour – if they do not then they must be shown.
Once everyone is happy with their colour/sign the stander waits at a few metres from the circle of chairs and, with everybody watching signs one of the three colours. Everyone sitting with this particular colour must stand and move and sit in one of the now empty chairs. While this is happening the stander must also try and get to one of the empty chairs. Whoever is left standing takes on the role of stander. This ice breaker is very simple, can be used to introduce new signs and is excellent for encouraging groups.
Sign and Describe
Here is another simple ice breaker game using simple to intermediate sign language. This can be played with people who have a beginner to intermediate level of sign language knowledge. Set the group out in a circle. Assign one of the people to draw and another to describe. Provide the person drawing with a sheet of paper and a pen or pencil. That person should then draw an object or image that the other person can describe to the group. Using sign language the person then describes the image.
The person in the group who gets it right then becomes the image describer and must choose a colleague to draw. This ice breaker game often encourages lots of laughter and creativity because the person drawing can create an image to amuse or interest the group. Ensure that the group is capable of understanding the different signs and if you want to control the difficulty level of signs then you could create a set of images prior to the session/lesson and ask members of the group to describe them.
You might also like...