FAQ: How Do Ice Breakers Help Children Learn?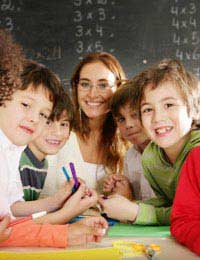 One of the most important aspects of teaching children or young people is to keep their attention and to create an interesting and encouraging environment.
Research has taught us that lessons' involving teachers reading text for long periods of time is not an effective way for children or young people to learn. In fact this method of teaching rarely works for students of any age. Many teachers and schools these days have incorporated a much more interactive style of teaching, which helps students absorb the information being taught.
Interactive Teaching
Although it is not possible to teach without some kind of interaction, it can be the level of interaction that changes the entire atmosphere of a lesson. Interaction can be implemented in several different ways:
Questions and answers
Drawing on the class board
Discussions or debates
Ice breaker games
The ice breaker game is a popular choice amongst tutors, lecturers and teachers. The ice breaker game can offer a multitude of options when it comes to getting your students involved and interested in the class subject matter.
Incorporating a quick 10 minute ice breaker game at the beginning of a lesson can stimulate the students minds and prepare them for the work ahead. Ice breaker games usually involve interaction between the students as well as the teacher so the group is immediately comfortable with the surroundings and environment. An effective ice breaker game will encourage the group to focus on the task or instructions you've set out. This immediately gets their minds interested and ready for learning. Ice breaker games often hide the fact that learning is taking place and have a strong element of fun to keep the group motivated.
Learning While Playing
The ice breaker game is purposely disguised as a fun game, which has often been ridiculed by traditionalists as a waste of time. However, by cleverly incorporating aspects of a subject or simple learning tools into an ice breaker game he group can often learn and absorb a great deal more than a conventional lesson that involves simply reading text or listening to someone explain a subject.
It is now well known that humans are far more likely to absorb and learn a task or subject by interacting and 'doing' rather than listening or reading. This does of course depend on the subject matter and reading and listening are still effective ways of presenting information to students.
There are hundreds of ice breaker games available, which can easily be introduced and incorporated into any educators lesson plans. Many ice breaker games can be tailored to an educators needs and depending on the ability of the students the ice breaker game can be modified to reach every student. Ice breaker games are extremely popular throughout the education industry and do often benefit students and teachers. However, ice breaker games should only be used to encourage and help students learn and is not necessarily the best option and depends solely on the groups learning ability, attitudes and enthusiasm.
You might also like...