Outdoor Ice Breaker Games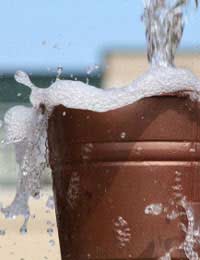 The health crisis that has developed over the last few years has made exercise and healthy eating more important than ever before. This is why encouraging kids and adults of all ages to participate in active outdoor games will benefit and enhance current and future generations.
School teachers often incorporate outdoor ice breaker games into their teaching plans as do companies and organizations. This is for motivational purposes. Kids benefit greatly from these games as many children today exercise very little and in many cases, not at all. The health crisis doesn't stop at the kids, adults are in need of a serious lifestyle change, which is why many corporations and businesses are introducing a range of outdoor ice breaker games to their repertoire.
If you are thinking of adding some outdoor ice breaker games to the workplace or your lesson plan try using some of these popular outdoor ice breaker games:
Balance a Bucket
This should be played outside in a reasonably large area. Split the group into two teams. Instruct each team to form a circle and then lie on their backs with their legs raised. Then ask them to put their feet together. With everyone in place you then balance a bucket of water on the feet of each team. Once the bucket is stable instruct each team that they have 3 minutes to take their shoes off without spilling the water or dropping the bucket. Start the clock and the first team to successfully take all their shoes off wins. This outdoor game encourages team work and trust.
Ball Dodging
This is a fun game for kids or adults. Get hold of a core exercise ball (the kind you see in the gym). Take it outside and instruct your group to form a large circle. Then ask some of the group to form a smaller circle inside the larger circle. Make sure they are facing each other. Then have the group roll the exercise ball around the circle. As the ball is going around the circle, explain that when you touch someone on the head they must run around the circle and back to their position without being hit by the ball. If they are hit by the ball they must sit out until the next round. This is a really fun game and can relax staff or students before an undertaking an intense lesson or meeting.
Pass the Hoop
This great game requires tactical thinking and encourages team work. Instruct the group to form a circle with a 12 inch space between each participant. Once everyone is in place add a sports hoop to the circle and instruct everyone to spin the hoop between each other and around the circle without it touching the ground. Once it gets to its original position the game is over. To make this game a little trickier add more than one hoop to the circle.
These simple, fun games encourage exercise and motivate kids and adults. You can adapt these games to suit your needs or you can make some of your own up. A little outdoor exercise goes along way in terms of getting the group to improve concentration and effort within the classroom or workplace.
You might also like...