Ice Breakers for Child Social Workers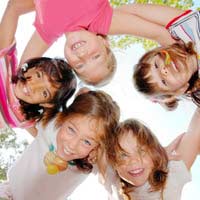 The ice breaker game can be an effective tool for breaking down barriers and connecting with children who need their help. Getting the trust of parents and building a relationship with the child can be the difference between understanding if a child is being properly cared for or whether they need you to intervene.
This involves understanding the child's feelings and discussing with them how they feel they are being treated and cared for. This can be particularly difficult with younger children but with trust and encouragement it is possible for a child to express their feelings and their environment.
The ice breaker game allows you to set up an immediate connection with the child, so that they feel comfortable and capable of talking to you honestly.
Here are some effective one-to-one ice breaker games for social workers to connect with children:
The Pocket Game
This simple little ice breaker game is an excellent way of getting a child to tell you a little bit about themselves. This can also be played in a group but can be quite a good way to start up a conversation. Ask the child to place a few of their belongings into their pockets. Tell them that they need to be items that are important to them.
When you meet up you also bring some small belongings that mean something to you. This way the child gets to know a few things about you and will encourage discussion. When you both meet up ask the child to show the items they have brought along and explain why they are important to them. You then do the same. This is a fantastic way of sharing and acts as a little window into the child's life.
Picture Me
An image can portray more about a persons life than any words. This ice breaker game simply asks the child to draw a few pictures that tell you about their lives. This could be where they live, their parents, pets, school etc. You should also draw some pictures about your life. Remember, it is essential for you to share as much about yourself with the child as you are having the child share with you. This will help the child with trust and encourage them if they see that you are just as interested in sharing your life.
Match Us Up
This is a clever ice breaker game that immediately shows the child your similar interests. Ask the child to write down all their interests. While they are doing this you will also write down your own interests – try and make sure you write similar interests of the child. It won't be very effective if you put down a list of interests that the child would not do or would have an interest in. Once you have both put down all your interests sit together and see if you have any interests that match. This will develop a fantastic platform for communicating and understanding the child's background.
You might also like...