Student Responses to Ice Breaker Games: A Case Study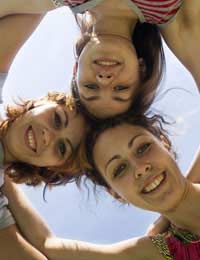 Students and pupils often enjoy the more active lessons such as P. E. or science, which is why ice breakers have become appreciated by teachers and students alike.
The ice breaker game offers students a little more variety in their daily lesson plan and can help them achieve much better results. However, both the teacher and student must take the ice breaker game seriously and use it as a tool rather than an opportunity to avoid learning.
Students from across the world have praised ice breaker games and often find that an ice breaker game allows them to fit in quicker with a group while focusing their minds.
Here are some responses from pupils who feel ice breaker games are excellent teaching tools;
Combating nerves
Gemma, 16, is a student from Chichester and explains how her drama teacher uses ice breaker games. "I remember my first lesson and I was really nervous because I knew that drama involved getting up in front of everyone and performing. My teacher asked us to all sit down and rather than get us all to talk about ourselves he got us to write a short piece of information about us and then put it into a hat. He then asked random people to pick out a piece of paper and read out the information. This really helped us relax and made everyone laugh, which really calmed us all down, especially me. We all felt immediately comfortable with each other and it was good to know a little bit about the people I was going to be working with".
Brainstorming
Oliver, 13, is a student from Lewes. Oliver's recalls a lesson where his teacher came up with a interesting way of teaching the pupils their lesson. "My English teacher asked us to come up with a way of learning about Shakespeare other than just reading a biography. He set up a competition for each pupil to come up with an idea and put it in the hat. He then told us that which ever idea got the most votes in the class would be the idea we would use for the lesson.
"This got the whole class interested and thinking about how we would most like to learn about Shakespeare. Everyone discussed ideas and the idea we used was a quiz. Although this sounds a bit boring their was prizes at the end which got everyone swatting up on Shakespeare. The brainstorming idea session was a great ice breaker game that got the whole class talking and coming up with ideas".
Welcoming new pupils
Adrian, 17, is a college student from Chichester and often takes part in ice breaker games. "College can be quite a daunting place and you often enter a class room not knowing a single person. Most teachers start the lesson off with some sort of icebreaker exercise to get everyone relaxed and comfortable with each other. I think ice breaker games are excellent for getting to know your class mates and I have even asked my rugby tutor to start using them when new people join the team".
You might also like...