Social Workers Experience of Ice Breaker Games: Case Study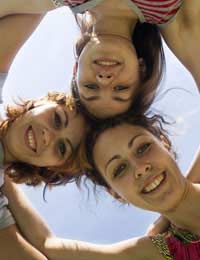 When Kate Halland decided to become a social worker she wanted to gain skills in understanding people and offering a supportive hand. Most jobs require good people skills and an approachable demeanor. However, this is even more important when it comes to the role of a social worker.
Kate has been a social worker for nearly four years and has come across many difficult social situations that go hand in hand with the profession. She was nervous when she started the job and it took a while for her to gain the confidence and knowledge to become a successful social worker, helping people throughout the area.
Early Career
Early on in Kate's career she realized the importance of being able to adapt to certain situations and incorporate certain techniques and activities to get the trust of people she was trying to help. Over time Kate realized that a friendly but firm manner, accompanied by an array of quick and simple social activities, she could compromise and negotiate with people of all backgrounds and situations.
Kate has often used simple ice breaker games to help connect with a youngster or encourage an irate parent to sit down and discuss the problems they're having. She took on board the skills and knowledge she had been taught but also added her own experiences to social tips to how she carried out her duties.
Going into her fourth year Kate recalls some of the situations where ice breaker games have helped her avoid certain situations and accomplish social acceptance amongst those that often would not speak to her.
"When I started out as a social worker I was terrified. I had been on some [social work] cases with other established social workers and witnessed some awful behaviour. Although this worried me watching the social workers deal with these people was motivating and quite inspiring.
"They were able to completely turn a situation around with some simple techniques and activities. Ice breaker games were used, especially with children, to get them to express their feelings and problems. This would help defuse tense situations and we would then be able to help".
Using ice breaker games
Ice breaker games such as simple introduction activities or 'get to know you' type games are often used to gain the trust of youngsters and help them divulge any problems they might be having at home. Kate once used a popular ice breaker game to get a child who was having difficulty at home open up.
"I was called around to a family's home to talk to a young boy who had been having difficulties with his step father. While my colleague was talking to the parents I was able to talk to the child. Because he didn't know who I was and was afraid to talk I thought I could help him feel comfortable by playing a simple ice breaker game.
"I told him a little bit about my family and friends and then he would tell me a little bit about his family and friends. Playing this simple game allowed him to trust me because I was letting him know about me as well as finding out about him".
Kate believes that having a good understanding of ice breaker games and being socially aware has enabled her to succeed in her career.
You might also like...