Gymnastics Ice Breaker Games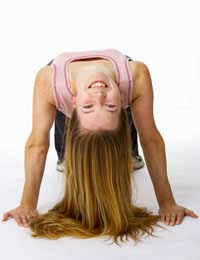 Although gymnastics is primarily taken up at an early age, this exciting activity can be a great way to get to know people, improve flexibility and fitness. Gymnastics does require a lot of dedication and practice to develop as a successful gymnast. This is why it can be quite stifling for youngsters when they first attend a gymnastics class. However, like any other activity or class, gymnastics can be a great way to make new friends and enjoy something that is creative and fun. Many people, especially youngsters, feel that gymnastics classes only accept already gifted gymnasts. This is, of course, not the case and many classes encourage those without any previous experience of gymnastics. Gymnastics helps people improve fitness, flexibility, agility, balance and coordination and this benefits a number of aspects in people's everyday lives.
Gymnastics instructors are usually friendly and encouraging and provide groups with excellent support and guidance. Many instructors use enjoyable, simple ice breaker games to help the group get to know each other and remove all the anxieties they may be feeling. The ice breaker game is ideal for gymnastics classes as it immediately puts everyone on the same level and eliminates 'I can't do it' attitudes.
Here are some excellent gymnastics ice breaker games that instructors use to help groups interact and improve as gymnasts:
Grab the Ribbon
This simple ice breaker game is aimed at younger groups but can be played by adults as well. Attach a short piece of ribbon or scarf to each gymnast. Make sure it's secure but also loose enough that it can be pulled off. Start the music and ask them to chase each other and grab as many ribbons from people as possible. This encourages quick movement and agility to avoid having your ribbon taken. If you have your ribbon taken you leave the game. The person with the most ribbons wins the game. You can incorporate rules such as everybody must perform at least one hand stand or cart wheel to make it even more interesting. Children and adults thoroughly enjoy this ice breaker game and can be slightly tailored to meet the needs of a group or the objectives that have been set out. If you have a group of more experienced gymnasts you could make the game a little trickier by making them perform a list of gymnastic manoeuvres. This game incorporates all the correct attributes of a good ice breaker game and will help the group interact while improving their agility, balance and coordination.
Follow the Leader
Follow the leader helps gymnasts learn new manoeuvres and interact with each other. Spread the group out into a circle, ensuring everyone has plenty of room. Then start the music and ask the first person of the group to perform a gymnastic manoeuvre. The next person then performs the same manoeuvre and another manoeuvre afterwards. The third person then performs the manoeuvres of the first and second participants and a further manoeuvre. This continues around the circle until everyone has performed several manoeuvres at a time. This excellent ice breaker game encourages gymnasts to learn manoeuvres quickly and practice new moves.
You might also like...